Rise up to accelerate innovation in health
CNES and the French Society of Radiology (SFR) are committed to more innovation in the service of health, in space and on Earth!
On Sunday, October 4, as part of the Journées Francophones de Radiologie (JFR) organized by the SFR, the two organizations sealed a partnership in order to develop new methods resulting from their respective expertise, in particular to better exploit the interactions between the analysis imaging (spatial and medical), artificial intelligence and space-based processes in these fields. This agreement also aims for more collaboration between the two ecosystems.
As part of this alliance, three main points have been identified: :
The need for innovative medical imaging technologies for distant space exploration,
Interventional radiology for distant space exploration,
The development of innovative medical and spatial image processing technologies and methods.
This commitment meets the objectives of CNES and Connect by CNES to put space expertise at the service of health on earth, for the benefit of businesses and citizens.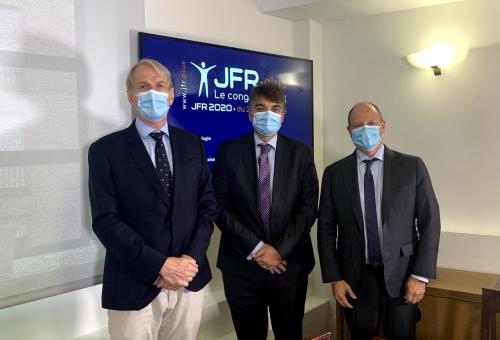 The signing took place during the plenary conference "Radiology, Medical Imaging and Space Exploration", where CNES was the guest of honor. It was done in the presence of Lionel Suchet and with the testimony of Claudie Haigneré.