The news just came out! The 1st class of startups to be integrated into our SpaceFounders acceleration program has just been unveiled.
This first batch of 10 European startups has been rigorously selected among more than 50 applications, based on demanding criteria:
Quality and expertise of the founders,
Validity of the value proposition, maturity of the technical solution and degree of innovation,
Size and dynamics of the target market, competitive positioning of the company,
Economic potential of the business model and growth prospects.
Among the winners were five French startups, three German ones, one Spanish one and one Lettonian one.
INNOVATION FOR SUSTAINABLE DEVELOPMENT
Sustainable development is at the heart of this promotion, which encompasses solutions for the Earth (hydrological monitoring, risk prevention, development of isolated villages, construction of bio-generative habitats, etc.) and space use (space tourism aboard reusable balloons, monitoring of space debris, in-orbit services to increase the lifespan of satellites, prevention of space weather risks, etc.)
THE WINNING STARTUPS
DCubeD provides deployable structures for nanosatellites.
Infinite Orbits provides in-orbit services to satellite operators to optimize their fleet.
Interstellar lab focuses on sustainable agriculture for the earth with controlled environment modules, for which it aims to install space versions on the Moon before 2025 and on Mars around 2030.
Mission Space, with its fleet of nanosatellites, is developing a global forecasting and monitoring system for one of the world's highest priority natural hazards - space weather.
OKAPI.Orbits provides an AI-optimized space traffic management platform to enable the operation and control of assets in space.
Pangea Aerospace is working to ensure reliable, recurring, and affordable access to space through the development of high-performance propulsion systems and reusable launch vehicles.
Share My Space addresses the problem of space debris by offering high value-added products and services for safety in space.
Village Data Analytics offers indicators from geospatial images for the benefit of isolated villages.
VorteX.io, through a transfer of space technology, provides hydrology measurements for flood prevention thanks to a hybrid of GSM / space IoT connectivity.
Zephalto takes its passengers in a balloon into the stratosphere for a cruise with a view of the Earth.
THE NEXT STEPS
The 10 winning companies will meet in Munich the week of September 13 for the launch of the intensive coaching program in the presence of numerous mentors and experts. The work will continue remotely but will be punctuated by a second week in Toulouse on October 13 to end with the SpaceFounders Demo Day in Paris on November 18.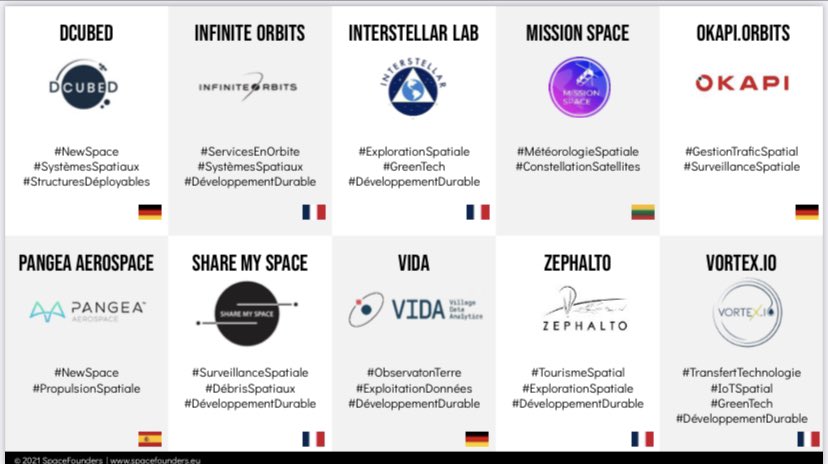 Congratulations to all the winners and welcome on board!